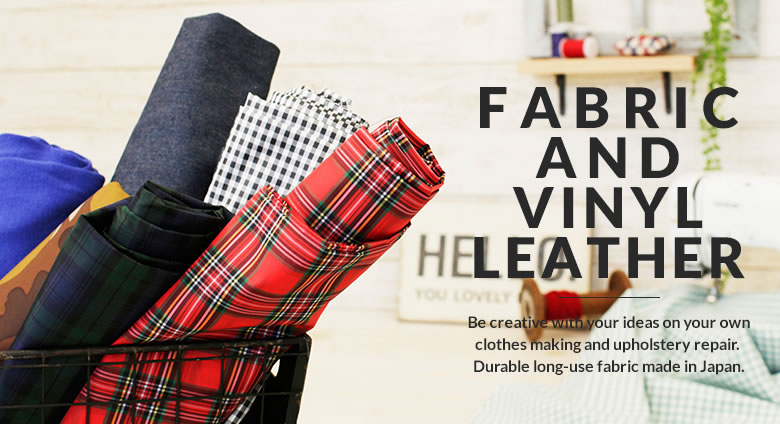 RESTA Japanese products
Fabric and vinyl leather
RESTA's fabrics are made in Japan and excellent in durability and safety that is proven in continuous tests by the manufacturers. Wide range includes common fabrics to make clothes and small goods, vinyl leather and fabric to repair upholstery.
RESTA No.1 Vinyl leather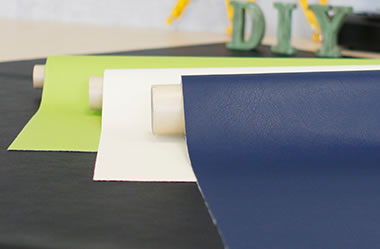 Leatheres
RESTA original vinyl leather is manufactured in Japanese leading makers' factories. Excellent in stain resistance, fire resistance and retractility. Available in 6 popular colors.
Shiny texture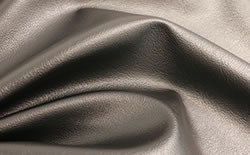 Surface is made by knitted fabric and is just shiny enough. It has a perfect thickness and is also excellent in durability.
Stain resistance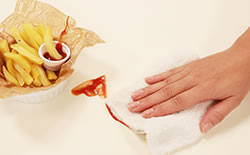 It is stain resistant as the surface has fluorine processed. No stain remains after a quick wipe of a cloth.
Excellent elastic effect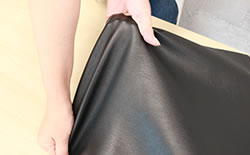 Soft and elastic fabric gives chairs comfortable texture. It's easy to fit wherever you like.
Passion on making fabrics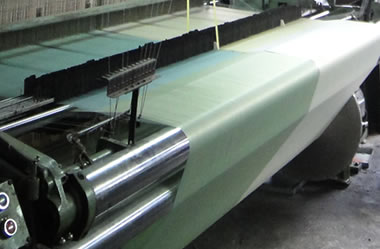 Manufactured in plants (factories) in Japan.
The fabrics and vinyl leather are manufactured in plants in Japan that have machines to imitate Japanese craftmanship. Fabrics are made by qualitied materials and woven carefully.
All the elements give the fabrics perfect thickness and softness, and make it easy to sew.
Rigorous tests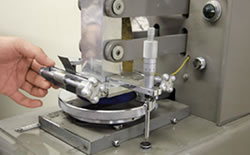 Our Japan made fabrics have passed various tests for durability, light and fire resistance. We sell only high quality fabrics.
Great texture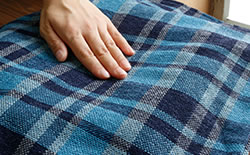 Texture is important for fabrics. They are all made by well selected materials and manufactured focusing on the comfortable texture.
Coloring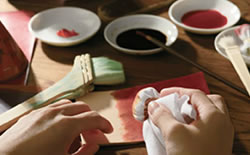 For coloring, some vinyl leathers require manual procedure as well as machine work.
Cloth fabric for clothing and goods
Kimono fabric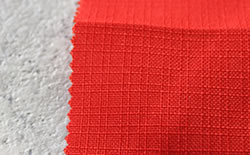 Finely woven fabrics have always been used with kimonos from the old days. It water resistant and is hard to wrinkle.
Made fur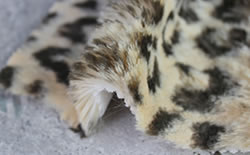 We created faux fur that looks and feels just like real fur. It retains heat and is a great fabric for autumn and winter clothes.
Satin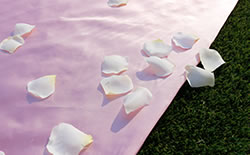 Satin with beautiful gloss have a wide rage of colors and thickness.
Absorbs sweat and dries fast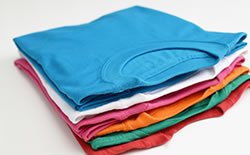 The fabric is made by unique fibers that absorb sweat and preserve its comfort. Suitable for sports wear or linen covers.
Water resistance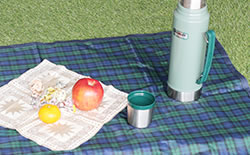 Water resistance effect to protect the fabric from juice spills and rain. Moisture inside is released to the outside, and this effect keeps the fabric comfortable on your skin.
For curtains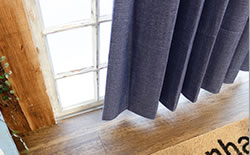 This thickness is best suited for DIY curtains. Some fabrics resistant to pollen and therefore does not attract it.
Cloth fabric for upholstery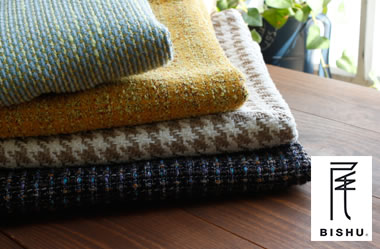 FORESTEX
High quality cloth fabrics made in one of the most famous origins of textiles in Japan, 'Bishuu'. The fabrics have passed manufacturer's rigorous durability tests. The more you use these strong fabrics, more you will love them.
Category page in Japanese
Garbo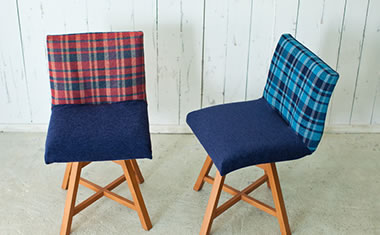 Washable upholstery fabrics. They look great for any interior, especially with Northern European style furniture and modern style rooms.
Heines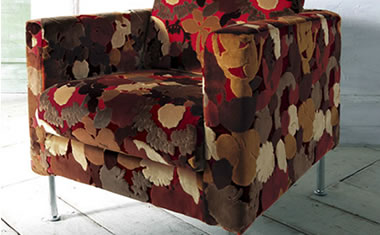 Fine upholstery fabrics with a Kinkazan style where patterns are created by weaving gold thread. It looks luxurious and classic, and has the most comfortable touch when seated.
Vinyl leather suitable for upholstery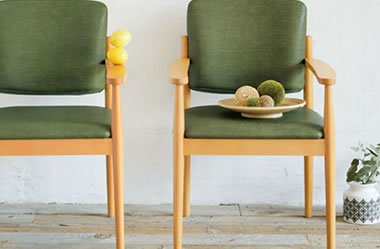 PULL-UP
Vinyl chloride is used on the surface and results in this leather being strong against stains and water. It imitates the gorgeous texture of real leather and its unique reaction of the color fades when stretched.
SOUTHERN X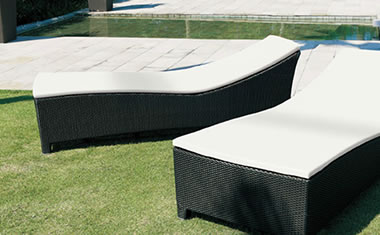 Vinyl leather is suitable for outdoor furniture because of its strong effect against the rain and the sun. It also has a strong resistance to fire which is used for ship interiors.
Legend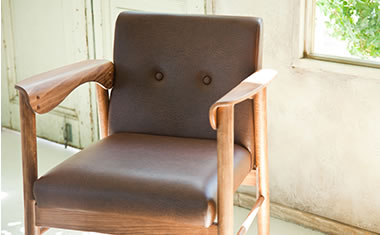 Vintage style vinyl leather makes your furniture look well used. Special price for the upholstery fabric made with passion.
Japanese styled fabrics
VERSAILLES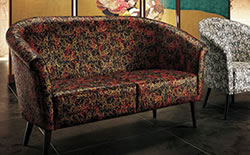 Represented by the image of gorgeous opera. It makes your furniture a collector's item.
KASURI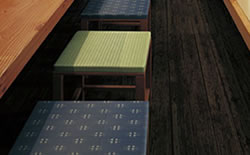 Fabrics with Japanese styled patterns that are usually used on Japanese floor pillows (zabuton). Suitable for furniture at Japanese restaurants.
YABUTORA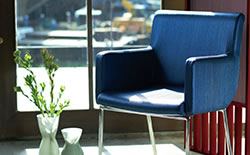 Fabrics in motif of bamboo trees that have a deep connection with Japanese culture. It imitates vertical lines on bamboo trees which is beautiful and lithe.
DÉCOR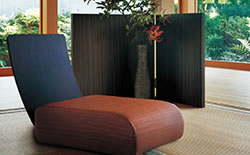 The design reminds us of Japanese 'tatami' and creates a relaxing atmosphere.
Kokoro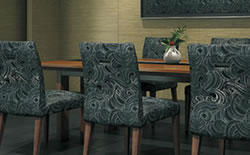 Upholstery fabrics with venturous scroll patterns draw people's attention.
Devergy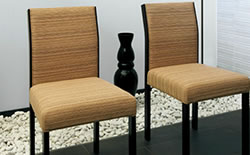 The combination of a few different kinds of unique threads imitate the looks of wood. Suitable for space with an oriental mood.
Functional upholstery fabrics
Grease resistance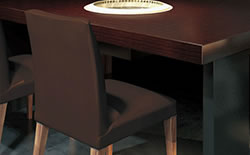 Grease resistant fabrics prevent cracks and hardening by oil. It's commonly used at restaurants.
Anti bacterial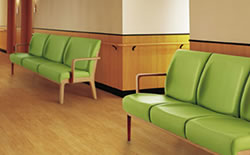 Antibacterial agent is kneaded into the fabric and it prevents multiplication of bacteria such as Escherichia coli or mold.
Cushion effect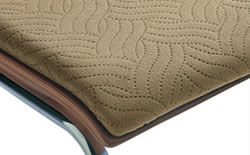 This fabric is made focusing on its comfortable touch. The conformational fabric makes it easy to be seated for a lengthy period of time.
Fire resistance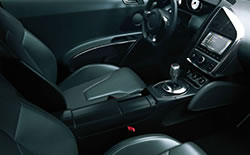 Fire resistant fabrics have passed tests in Japan. It's recommended for car interiors or public facilities that require strong safety.
Bleach and sanitization safe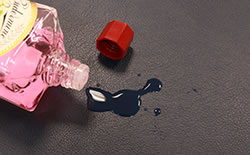 Bleach and sanitization safe material is used for this fabric. You can use bleach and sanitization for its maintenance. It prevents the fabric from hardening and the texture remains the same.
Retractility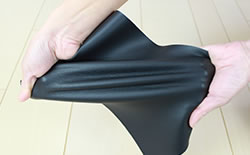 Elastic fabrics are easy to fit tightly onto whatever you like.
Sale of fabric and vinyl leather

Some fabrics and vinyl leather are prohibited to be resold in Japan.
(including products which fabrics or vinyl leather are used on.)
Please contact us for more details.

OTHER PRODUCTS