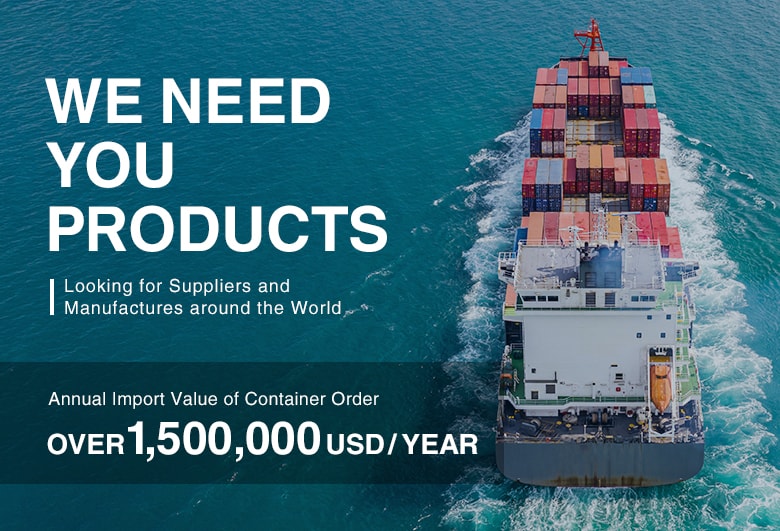 We have a wealth of sales experience in Japan
PRODUCT PROPOSAL
RESTA is looking for new products to sell in Japan. We can work as your distributer in Japan.
Our leading products
Wallpaper
Wallpaper from Japanese makers are popular because imported wallpaper is more expensive. We are always searching for reasonable routes to buy imported products.
PVC flooring
We have all kinds of PVC floorings and they are all from Japanese makers. We are looking for original equipment manufacturers.
Wooden flooring
Wooden flooring is the most popular product for sales on the internet. Please suggest your unique products from your country.
Paint
Currently, only 30% of our sales from paint is from overseas. We have our distributer in Japan and that's the only route. We are looking for a direct contact.
Fabric
We mainly sell fabric and PVC leather. We believe that Japanese products have high standards and functions, but we are looking for unique and reasonable products too.
Wooden deck
Our sales on wooden decks have been increasing steadily. We are searching for manufacturers who can provide the sustainable supply of qualitied natural wood.
Shade
Roll up screens, wooden blinds, pleated screens and more. Big potential in this category as the manufacturing cost is low.
Carpets
Our lineup includes all kinds of carpet and our sales remain steady. Please suggest a new type of carpet we may not know.
Tiles
Tiles made overseas are popular. It has good sales potential if we can sell it at a low price.
AND MORE
We provide more products than above.
Please contact us using an inquiry form below if you know of any unique products. We will reply via email.
Why RESTA is strong in the Japanese market?
Search Engine Optimization strategy.

It is critical to be on top of the list of search engines when we sell products on the internet. RESTA has a great SEO strategy reading the changing times ahead. The number of page reviews in January is more than 2million and we have over 70,000 members.
Own produced photos & videos.

Only attracting potential customers by SEO does not lead to sales. RESTA has our own photo shooting studio and can photo shoot our products and produce videos including high quality instructions. We also have professional photographers and an editing team.
High quality computer programing.

All processes from orders on computers and mobiles to delivery are operated digitally. It reduces the labor cost and it leads to a more reasonable price. As our website allows our customers to order in their preferred size, we can gain orders on products that other companies can not sell on the internet.
What kind of product RESTA is looking for?
Items that are not recognized as standard in Japan.

The standard Japan made items have been mass manufactured in Japan and it is difficult to make a difference on the cost.
We are looking for items that are not known in Japan such as 3D wallpaper.
Items in small volume but expensive.

Large volume items are expensive to store. It is important that the item is stackable.
For example, wooden deck materials and wooden floorings can be stored very reasonably.
Items with unique features.

Please tell us unique featured items you know of.
Perhaps lighting needle punch carpets or uniquely shaped window shades?
Items with instruction photos prepared for.

Photos of the item itself does not attract customers. Many photos of instructions lead to greater sales. RESTA can photoshoot for you at an extra cost.
White and wooden patterns are popular.

It looks attractive when the item has wide color and pattern variations, but there is a risk for you to be left with the unpopular items. In Japan, white and wooden patterns have remained popular.
Reasonable items.

Manufacturing cost in Japan is very high. Please let me know if you know of any products that have succeeded to keep the cost low.
For example, items that can be more reasonable using air freight than manufacturing in Japan and allows extra orders in custom made sizes. Or, blinds, roll up screens, pleated screens and more.
Items in packages designed for Japan.

It does not attract Japanese customers if the language and design on the package is not made for Japanese customers as they know the items are not manufactured for them. It's best if you can print RESTA's original packaging design.
Last but not least, packaging quality is very important for Japanese customers. We recognize the quality of packaging is equally important with the quality of products.