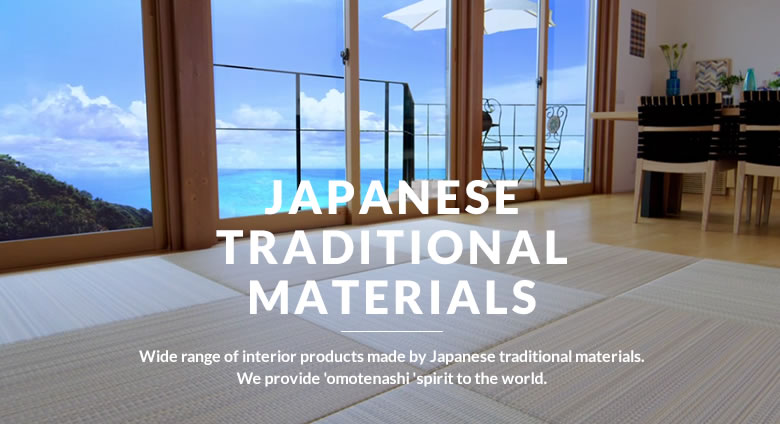 RESTA Japanese products
Japanese traditional materials
There are many interior products on the Japanese market that are eco-friendly and have a great touch. This is due to our traditional manufacturing technique taking advantage of the material's natural features. RESTA's lineup includes a wide range of products made by Japanese materials such as tatami mats, Japanese paper, bamboo blinds and more. They all have excellent features such as absorbing and retaining moisture and durability, all for you to remain comfortable throughout the year.
Japanese paper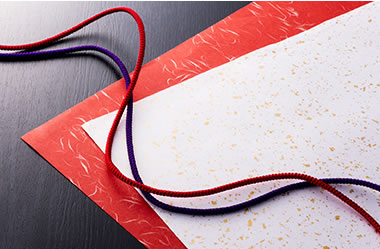 Features of Japanese paper
Hand-made paper using an ancient Japanese manufacturing process. Subtle patterns are created intentionally resulting in a unique and rough surface. It's excellent in moisture absorption, breathability and durability.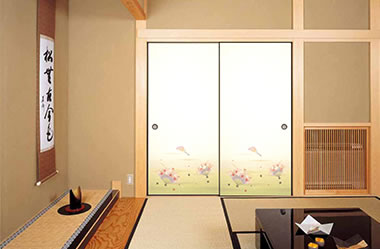 Japanese Fusuma sliding doors
Fusuma are Japanese style sliding doors that are used between Japanese style rooms. The application of Fusuma paper on to the sliding door frames, creates a gorgeous Japanese style space.
Sansui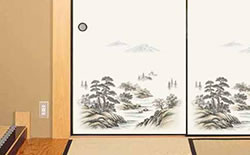 Well designed fusuma featuring beautiful landscapes at the bottom.
Ryuka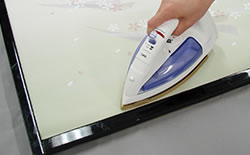 You can apply this fusuma paper just by ironing it on. It contains beautiful flower patterns to remind you of spring in Japan.
Fusuma door handle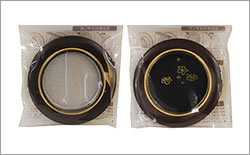 In addition, you can add Japanese taste through the door handle frame. Our lineup includes products with traditional Japanese patterns or products made with luxurious looking metals.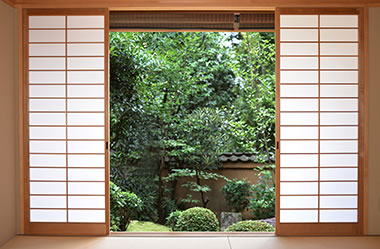 Shoji screen paper
Shoji screens are often used for traditional Japanese style rooms with tatami mats. You can feel the light gently come into the room through the Japanese paper. It has always been popular in Japan.
Alistard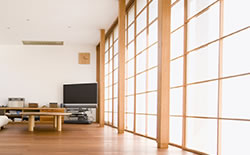 Shoji paper is excellent in moisture retaining and thermal insulating. Billions of bubbles inside the material prevent the outside heat from coming in and keeps the temperature inside comfortable.
Kirameki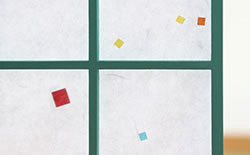 Shoji paper with pieces of colorful Japanese paper in a white base paper. The white paper has unique bumps and you can enjoy the Japanese traditional atmosphere.
Mesh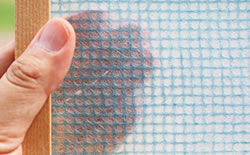 Mesh shoji paper collects light. Thin but durable, you can use it as gift wrapping paper.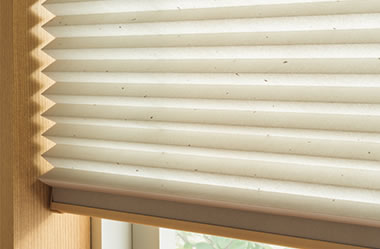 Pleated screens
Window screens can be opened and closed by folding up and down. It imitates the texture of Japanese paper and is more durable than real Japanese paper. Perfect in creating a modern Japanese style room. Available in your desirable size.
Iroha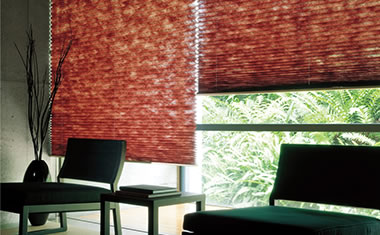 This material creates the contrasting density (notan) of Japanese paper very well. It lets the sunlight in just like leaves would in a forest.
Gekkei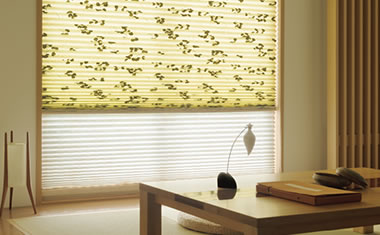 Elegant patterns in motif of Judas tree leaves. It can also be manufactured with the print side down.

Rush grass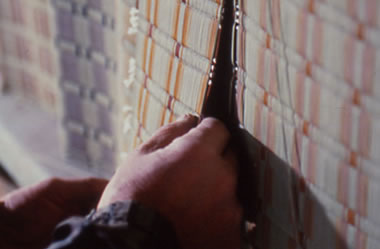 Features of rush grass
Rush grass with a refreshing scent and high durability has been used as a material for Japanese tatami mats since ancient times. Rush grass is called 'natural aircon' because of its ability to absorb and retain moisture.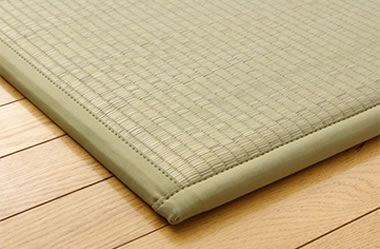 Tatami mats
Cultural related flooring material where you can relax sitting or laying down. It cleans the air and helps you feel relaxed. RESTA has a wide range of tatami rugs 'okidatami' that you can simply place on the flooring.
Tenryu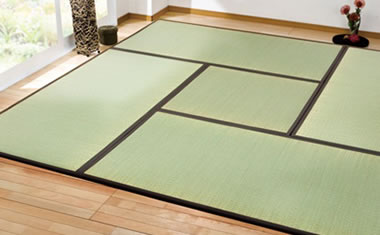 Tatami manufactured using 100% Japanese made rush grass. It is comfortable, soft and springy. Excellent in anti-bacterial and deodorizing effects.
MIGUSA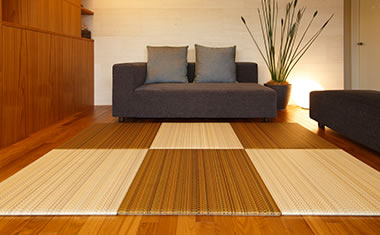 Tatami mat features the natural rush grass texture and moisture absorption. As is resistant against water and stains, it is easy to maintain.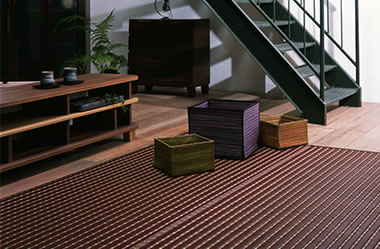 Rugs
You can create a Japanese atmosphere by just placing this rush grass made rug on your floor. It has more variations in color, pattern and size. You can fold up when not in use.
Chunagon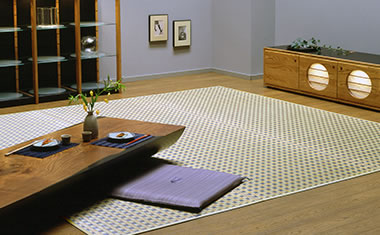 Japanese traditional 'Ichimatsu' checkered pattern has been arranged in a modern style with bright colors. The perfectly regulated patterns show the craftsmen's great technique.
Gauge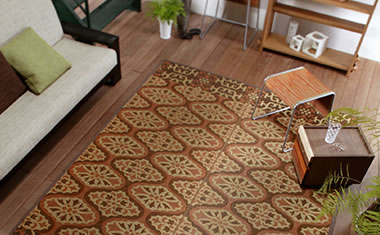 Rush grass made rug woven in two layers and it is very durable. It has a soft touch just like a cushion and enable you to feel relaxed.

Bamboo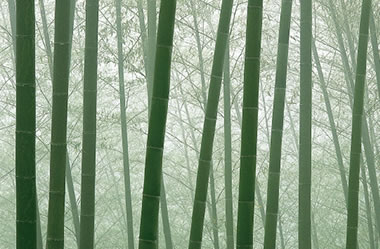 Features of bamboo
Bamboo which is common to see in Japan is used for everything including everyday goods and furniture. It is very durable and flexible and has an anti-bacterial effect.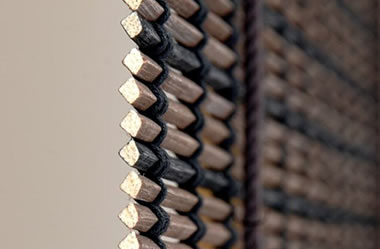 Rolling up sudare screens
'Sudare' screens that have been used as a window decoration since ancient times. Curtain woven by natural bamboo and strings have ventilation and dehumidifying features. We have a wide range of rolling sudare screens and are able to take an order in your desirable size.
Iori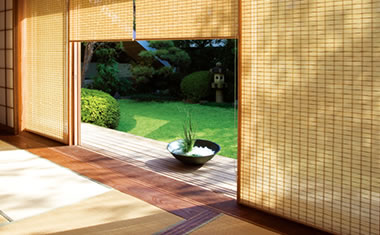 You can design a refreshing Japanese space using bamboo sudare screens that have a natural color from the material. It has a ventilation feature.
Hibiki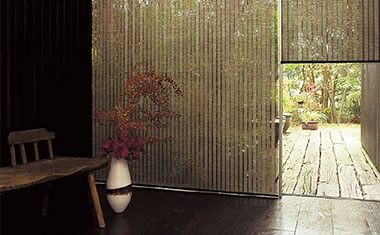 Chic and luxury style bamboo sudare screens. Its vertical lines made by strings are nice and unique.

OTHER PRODUCTS