RESTA began with wallpaper craftsmen
RESTA COMPANY PROFILE
ABOUT US
RESTA started in April 1996 as a one man endeavor in western Kobe, Japan specializing in interior work.
Since then, RESTA has grown in leaps and bounds to become one of the biggest companies specializing in retailing of DIY goods. We have a presence in the major Japanese marketplace, real estate development and retailing of DIY private brands, housing reform and real estate consulting.
Our passionate commitment to our customers is the key to our continued success and we will continue to improve our services to bring joy to our customers.

OUR ONLINE SHOP
RESTA has experienced year on year sales increase because of our commitment to provide the best quality at the best cost in the market. We are very grateful to our customers for having faith in us with continued patronage.
We have been able to maintain low prices because of close cooperation with our partners, ordering in bulk and more importantly development and production of our private brand at lower costs without compromising quality.
RESTA was ranked No.1 in online sales by Google and Yahoo in September 2016 for tile carpet,flooring and screen doors, the other products that we handle are also highly ranked. RESTA online shops are accessed by two million users monthly and an active online membership of seventy thousand users.
MISSION
We at RESTA have held the firm belief that there is no place like home.
A home in most cases dictates how our day goes or determines our demeanor.
We continue to explore ways of making homes exciting and enjoyable.
Everyday we learn something new or stumble across a wonderful product that we would like to share with everyone.
RESTA continues to strive for ways to make DIY a fun experience or past time and not a chore.
Since the olden days it has been the universal goal of everyone to create a bright, happy and exciting home which in turn leads to a cheerful society.
We continue to explore all channels and possibilities to meet the needs of our customers and to deliver goods to them at the cheapest and fastest means possible.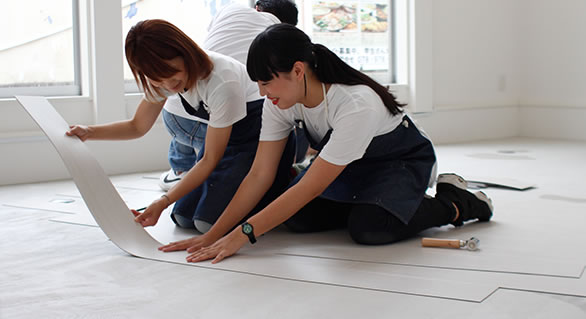 HISTORY
Apr.1996

RESTA started in April 1996 in Western Kobe, Japan, initially specializing in interior craftmanship.
Feb.2004

Incorporated as a limited company and our office was moved to the present Ikawadani warehouse.
Officially started production of Adhesive type wallpapers and sales online.
Aug.2005

Developed Wallpaper automatic gluing machine.
Mar.2006

Opened specialized interior goods shop (Kabegami kobo) on Yahoo Marketplace.
Aug.2007

Created a sales department specializing in housing reform in Shimizugaoka Kobe.
Apr.2010

Housing reform business was rebranded as RESTA.
Apr.2011

Launched real estate business.
Mar.2012

Opened Logistic center (LOGISTA) in the Sagawa Express Tamatsu Kobe premise.
Online shop name changed from Kabegami kobo to RESTA.
Feb.2013

Changed company name from WORKS Limited to RESTA.
Opened housing reform and real estate department in Ikegami West Kobe.
Started production and sales of original brand "STRA".
Mar.2015

Opened support center and photographing studio (SAPOSTA).
Started sales of original brand pleat screen door "LOHARIA".
Started sales of original brand roll screen "LIFIRO".
Started sales of original brand flooring "Euca".
Aug.2017

Started sales of original brand window blind "Baum" and "Blatt"
Started sales of original brand PVC leather "Leatheres"
FEATURED PARTNERS