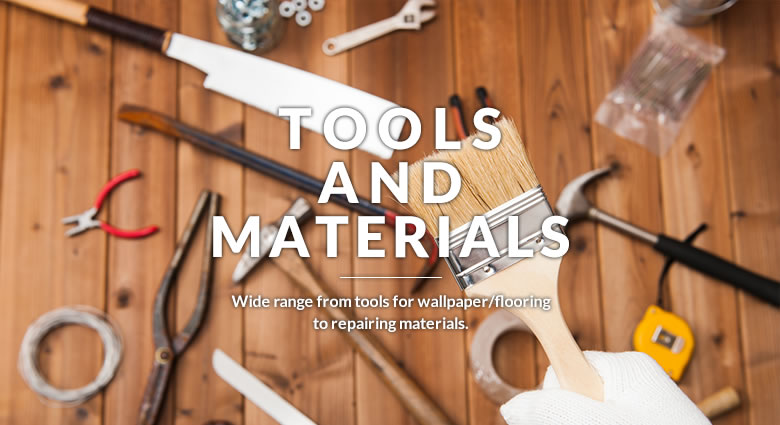 RESTA Japanese products
Tools and materials
We have chosen tools that professionals recommend and introduced a wide variety from must-have tools to convenient items. Our lineup includes the best suited materials for preparing walls, important base materials for DIY renovation and an agent for putty. This is only part of our range, please contact us and tell us what you need.
Adhesive glue
For wallpaper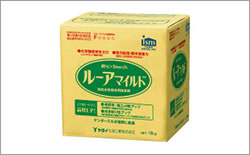 Our lineup includes several kinds of glue that have passed the indoor environmental standard.
For vinyl floorings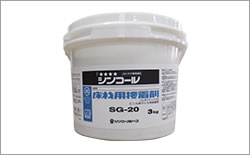 Water based type but has firm adhesion.
For carpet tiles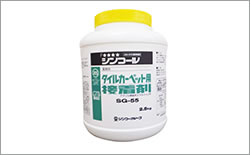 For carpet tiles, low tack adhesive is suitable that does not dry completely. You will be able to replace stained tiles easily.
For Shoji/Fusuma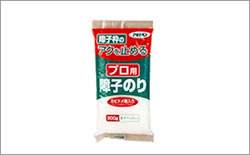 As fusuma and shoji are made by paper, a special adhesive is required.
For wooden floorings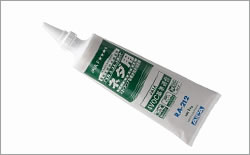 Adhesive for particular purposes and materials.
For others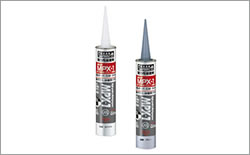 Wide range of adhesive for other purposes are available in our lineup.
Agent for base materials
For walls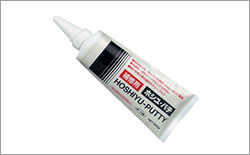 Required to prepare the wall before wallpaper or paint is applied. The material is light and you can choose the desired amount.
For floors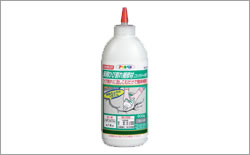 This is used to repair cracks and bumps on concrete.
For others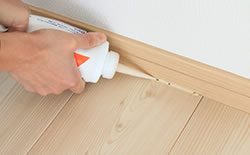 A type to fill in gaps and more such as a sealer and primer.
Other materials
Urethan mats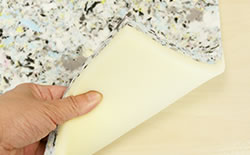 Urethan made mats used for the seating part of chairs. These mats are very durable and is made to last.
Nails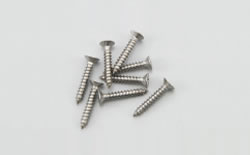 Japanese made nails do not bend easily and they fit perfectly with screw drivers.
Floor trims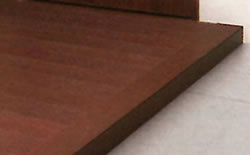 We have a good selection of materials used for the borders between walls and floors.
Tools
Corner cutter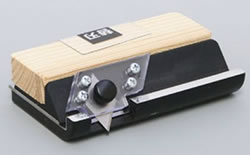 Corner cutter particularly made to cut cushion floors. (for 1.8-2.3mm thickness) You can cut awkward areas with ease.
Roller for floors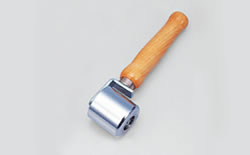 Heavy roller is useful to lay vinyl type flooring.
Glue comb scrapers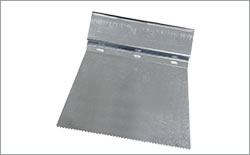 Glue comb scrapers required to spread adhesive for cushion floors, carpet tiles and floorings.
Tool kit for walls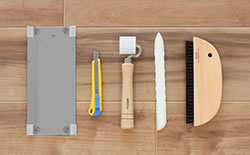 Tool kit required to hang wallpaper is available. You can order items individually too.
Tool kit for wallpaper glue
Glue is necessary to be applied on the back of wallpaper. Available both in a tool kit and as individual items.
Scraping tools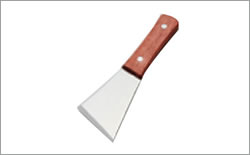 Tools to scrape off old wallpaper and paint on walls. They are made by strong and rust resistant materials.
Brushes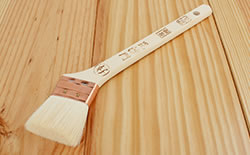 Choosing the correct brush is very important. We have a good selection of brushes from the reasonably priced to more expensive and functional types.
Rollers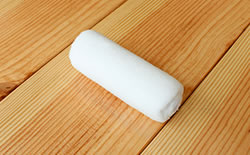 The quality of roller affects your work. It's important to choose rollers that will not lose too much hair.
Paint applicators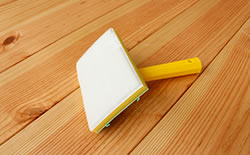 This is becoming popular in Japan for indoor painting. It can paint a flat wall 3 times faster than a roller.
Transportation of liquid materials

A lot of products such as glue and agents contain an organic solvent. Some products
are prohibited to be imported depending on the country and port.
OTHER PRODUCTS