Introduction of the construction method
How to paste the shoji paper with glue
Nowadays there are several types of shoji papers, however the glue type is the most basic type. It is economical and easier to paste.
PHOTOS
PREPARATION
Things to prepare
Tray for glue
Sponge
Cut ruler
Brush for the glue
Polyester Spatula
Masking tape
Cutter
Dust cloth
Material to use
Shoji paper (glue type)
Shoji paper glue
STEP1: Preparation before pasting
Remove the old shoji paper.
If the old shoji paper was pasted using glue, wet the sponge with water and apply lightly on the surface of the paper.

After 5 minutes, gently peel off the shoji paper.

After peeling off the shoji paper, use the polyester spatula to scrape off all the glue on the frame.

Use the dust cloth and clean the frame properly, ensure the frame is dry.

Preparation before pasting is over when the frame dries up completely.
STEP2: Let's position the paper
Place the frame on a smooth flat surface to determine the position of the shoji paper.

If the positioning is okay, affix the paper to the frame at the center.

Spread the shoji paper about 1/3 to 2/3 and confirm whether the paper is parallel with the frame.

If the positioning is okay, temporarily affix the paper to the frame at the center and both ends.

Roll back the paper after temporarily affixing the paper.
STEP3: Applying the Glue
Pour the glue into the tray. if it needs to be diluted, apply water and spread and keep.

Start applying the glue on the crosspiece and on finally on all sides to the frame.

Gently apply glue on the crosspiece.

Glue is not applied on the entire frame, apply the glue on the inner part of the frame. The width of the applied glue should be eqivalent to the width of the crosspiece, Make sure quantity of glue applied is much.
STEP4: Pasting the Shoji paper
Before the glue dries up, gently roll the shoji paper on the entire frame and paste.

After pasting the shoji paper, gently press the crosspiece for the paper to adhere to the crosspiece.

Cut approximately, If the leftover shoji paper is much.

If there is curl and the adherence is not good, use a hair dryer to apply some heat and the curl will vanish.

When the paper is pasted, use a ruler to cut the excess paper.

After cutting the excess paper,remove the excess paper and the tape used to temporarily affix the paper to the frame.
finished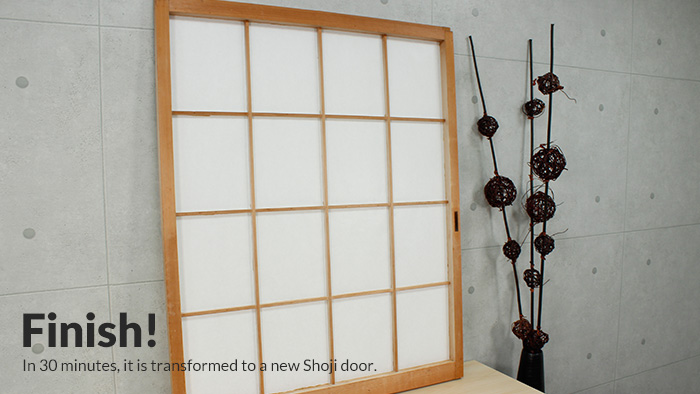 OTHER HOW TO
| | |
| --- | --- |
| for wall | |
| for floor | |
| for Japanese tradition | |